an 8-session Course
Module 1
Comprehensive
Sewing Techniques Course
FOR BEGINNERS
Available to those who have completed Day One 
EVERYTHING IS PROVIDED IN CLASS TO COMPLETE THIS COURSE
including the mandatory use of the class sewing machines and overlockers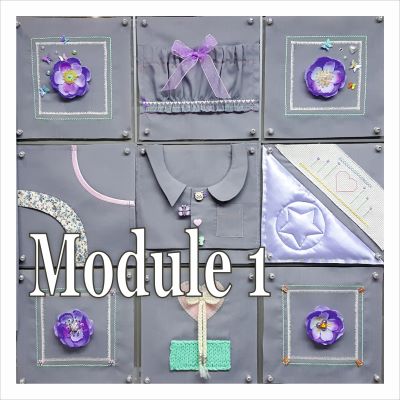 As you will be aware, or become aware, we do not jump in and knock out a boxy jacket or tracksuit top or some sweatpants
These items teach extraordinarily little in the way of real sewing techniques. You will be able to do those and so much more after your 8-Sessions  
Our Curriculum allows you to have a good knowledge of an array of the ins and outs you need to know. We call this your Toolbox of Tricks. This allows you not only to adapt the individual techniques but also gives you the experience to start adapting them into different styles, fabrics, and requirements, as they crop up.
You will be able to read and understand sewing books and grasp online tutorials with so much more ease.
What is more, you will have a pretty article that you can use as reference if you forget something. Used with your picture-packed instruction file, you can only grow in confidence and really start to enjoy creating with fabrics, notions, trims and more.
For those who do not want the commitment of an 8-session, 36-hour course, there are Workshops and Private Lessons to book
YOUR TOOLBOX OF TRICKS WILL CONTAIN . . . 
SESSION 1
A Stitched and Drawn Ruffle with Decorative Stitches
A Casing for a Drawstring or Elastic
2 x Machine-made Automatic One-Step Buttonholes…. IN WEEK ONE  . YAY!
It sounds like very little for 4 – 5 hours of class, but it really takes more than 4 hours to do this properly for the first time.
SESSION 2
We deal with the finishing of the raw edges of openings such as necklines, arm holes and hemlines in the following ways:
Bias Binding
The Fitted, Contoured Facing
2 x Hand Stitched Hem Stitches: Slip- and Herringbone-
SESSION 3
Embroidery Stitches, made by hand:
Cross Stitch
Back Stitch
Stem Stitch
Chain Stitch
The French Knot
Machine Quilting is a simple Technique but is useful in so many more ways other than making Old Fashioned Quilts
Students receive their Creative Homework to be completed over the following 4 weeks. On the 4 Corners of the project Creativity is encouraged. Only one requirement though: Each Square must contain some Beadwork. This is demonstrated in class.
SESSION 4
Brief introduction to the art of Crochet
A Little Knitting
Embellishment
SESSION 5 & 6
These two are Marathon Weeks and a lot is packed into the classes :
2 Types of Collars
Looped Buttonhole
Snap Fastener
We revisit the One-Step, Machine-made Buttonhole
Stitching on 2 Types of Buttons, Flat and Shanked
SESSION 7
The Invisible Zip .
Yes, it takes four hours to teach … minutes to stitch when you know how
SESSION 8
Assembly of the Project in what can be described as "Simple Patchwork"
You may be thinking   "… but I don't want to know about beading or crochet!"
Techniques have many facets.  You may find something you did not know that leads to something else, that you very much like and want to do! 
And… if you really still don't like the activity, you never have to revisit it. 
At the very least, it will be in your Toolbox of Tricks if you need it again!
€390

IT IS POSSIBLE TO PAY IN 2 EQUAL INSTALMENTS.  GO TO BOOK BELOW